« Author Profile – Melonie Dodaro | Home | Constellation Libra: Life After Earth »
By Lauren Smith | July 2, 2010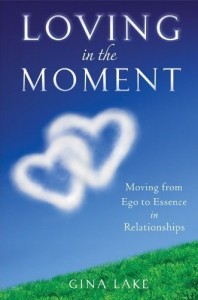 Gina Lake's new book, Loving in the Moment: Moving from Ego to Essence in Relationships explores how to recognize and develop meaningful relationships in today's world of doubt uncertainty and lack of trust. Moving from an ego-based life to compatible relationships with others isn't easy and you must understand the factors that will sustain loving partnerships and friendships with other human beings to be successful.
Lake goes beyond the illusions of romance and what a relationship should be and gets right to the core of what it means to embark on a path with another person, be it relative, matrimonial or friendships. Gina teaches in a clear and succinct way that will help you accept who you are, live in the moment and confront issues such as anger, money, infidelity, sexual problems and other disagreements or incompatibilities within a relationship.
Loving in the Moment is a spiritual-based book that will move you beyond what your ego tells you to think — to a point in your life where you'll discover that growth and contentment with the right person or people can bring you more happiness than you ever imagined.
Gina Lake, M.A. is a prolific writer on the subject she loves most – helping others to bring contentment and joy into their lives by living and loving in the moment they're given. Her master's degree is in Psychology (counseling) and she's spent the last two decades of her career assisting others in their spiritual growth and commitments. Lake has also written Radical Happiness, Living in the Now, Return to Essence, What About Now?, Anatomy of Desire, Embracing the Now and Getting Free.
All of Lake's teachings and books are targeted to an audience that searches for peace and tranquility in their lives and who strive for the ultimate experiences that life has to offer. Besides her plethora of books, Gina Lake conducts seminars and happily speaks to organizations about living in the NOW.
If you enjoy the teachings of Eckhart Tolle, Byron Katie, Marianne Williamson and Wayne Dyer, you'll enjoy and learn from what Gina Lake has to add to their universal appeal in her own book, Loving in the Moment. You'll find out that judging people from your ego's point of view isn't as accurate as initially accepting a person for what he or she is and basing the relationship from that point on.
Loving in the Moment: Moving from Ego to Essence in Relationships, by Gina Lake, will give you an entire new prospective on how to see the divine in others – and how to cultivate it in yourself. It's a book that you'll refer to time and again and one that you'll be anxious to recommend and give to friends and family.
Lauren Smith is editor for the Virtual Book Review Network – reviews books by well known bestselling authors and books by soon to be recognized names. This book review covers Loving in the Moment by Gina Lake.
Topics: Personal Growth, Spirituality | No Comments »
Comments
You must be logged in to post a comment.