« Author Profile – Dorothy Lecours | Home | Author Profile – Melonie Dodaro »
By Lauren Smith | May 4, 2010
Author Profile – Sara Wiseman, author – Writing the Divine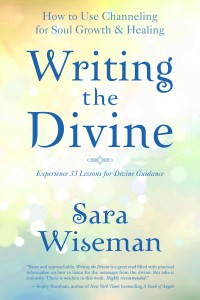 What's on your nightstand now?
My journal, Divine Matrix by Gregg Braden, Matrix Energetics by Richard Bartlett, Frequency by Penney Peirce, The Vortex by Esther and Jerry Hicks…and the latest edition of Surfer magazine.
What was your favorite book when you were a child?
Harriet the Spy, hands down. I read it in third grade, and bought my first journal shortly after. I'm pretty sure I had a spy belt, too…
Did you learn anything from writing your book?
Basically, my whole life changed! Before this book was even a glimmer in my agent's eye (or even before I had an agent!) I unexpectedly received The 33 Lessons in channeled writing—amazing spiritual teachings from Divine guides that begin "the purpose of life is soul growth." It was a scary, exhilarating, transformative spiritual experience. I mean, suddenly I had spirit guides—and I didn't even believe in spirit guides! During these months of channeled writing, my psychic abilities fully opened. By the time I was finished receiving the Lessons for this book, I was profoundly changed from the inside out.
What do you think makes a good writer?
I was a copywriter and a features journalist for decades. This taught me how to write in a style that's short, sweet, sassy and makes it easy on the reader… all they need to do is strap their seatbelts on, and enjoy the ride!
When did you first realize you wanted to be a writer?
From birth. My grandfather was the entertainment columnist with the Chicago Tribune during the Prohibition Era; my father was a professor who wrote ten or more books on business management. I was steeped in it.
Do you see writing as a career?
Writing is one of the three things I do: 1) I write books about soul growth & healing, and how people can connect to the Divine. 2) I teach the same things in workshops and seminars, traveling to whichever places will have me! 3) I offer private psychic counseling and training, to help folks who are ready to move forward in a very clear way.
What does your family think of your writing?
As a child, what did you want to do when you grew up? I wanted to be a rock star, a surfer, a photographer, a mystic on the mountain… and oh yes, a writer!
Topics: Personal Growth, Spirituality | No Comments »
Comments
You must be logged in to post a comment.