« Replacement Child – A Memoir | Home | Author Profile – Dorothy Lecours »
By Lauren Smith | March 12, 2010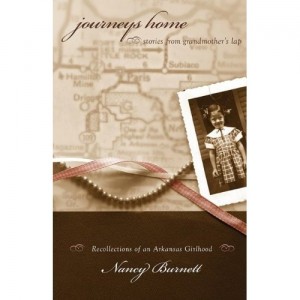 Talking with the author of Journeys Home: Stories from Grandmother's Lap, Nancy Burnett
What's on your nightstand now?
The Dragonfly Principle: An Exploration of the Body's Function in Unfolding Spirituality by Mary Hamilton
Psyche's Journey: Opening to the Mystery, a quarterly journal, psychesjourney.org
When the Elephants Dance, Tess Uriza Holthe
Cloud Atlas, David Mitchell
What was your favorite book when you were a child?
Little Women
Who are your top 3 favorite authors?
I read everything written by Margaret Atwood, John Irving, and Marion Woodman.
Did you ever buy a book just because of the cover and if so, which one?
I've bought many books because I loved the covers and was attracted to the contents. One example is The Making of the Magdalen, Preaching and Popular Devotion in the Later Middle Ages by Katherine Ludwig Jansen—beautiful red and gold.
Was there a book that changed your life? If so which one and how did it affect you?
Many books have been life changing for me. One prominent one is Addiction to Perfection: The Still Unravished Bride by Marion Woodman. This book is transforming in so many ways. It explains some difficult points in Jungian psychology. It reveals a common ill of not just individuals in our society, but of our society itself. It teaches what to do about this illness on both personal and collective levels. And it revealed me to myself, enlarging my sense of who I am and what is possible for me. Eventually, I used the book in study groups with women and so it helped me grow as a teacher and healer to others.
Topics: Essays | No Comments »
Comments
You must be logged in to post a comment.