« Author Profile – Sara Wiseman | Home | Loving in the Moment by Gina Lake »
By Lauren Smith | May 11, 2010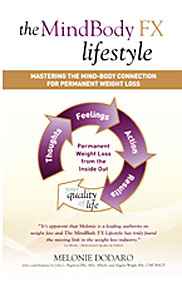 Q: When did you start writing, and what inspired you to write?
A: I started writing my book in late 2007 and completed it in 2009. My inspiration came from many sources that include my own weight struggles, growing up in an obese family and working with thousands of clients over the years in my weight loss centers.
Q: How long did the book take you from start to finish?
A: About 18 months by the time it was all said and done.
Q: Where do you write?
A: Almost anywhere. I remember finishing my book in my hotel room when I was on a trip to Palm Springs. I do a lot of writing on airplanes and of course in my home office.
Q: What's the best thing about being a published author?
A: I would say there is a sense of accomplishment and for me it's also the accomplishment of a long time goal I had set for myself. It was very exciting when my first box of books were delivered to my home.
Q: Who are some of your favorite authors?
A: Don Miguel Ruiz, Wayne Dyer and Napoleon Hill.
Q: Do you hear from your readers much? What kinds of things do they say?
A: Yes I do, I get wonderful emails from people sharing their success following the system laid out in the book. I got one email just last week from a lady who told me that she had struggled with her weight her whole life and after reading the book it was like a switch went off and that she can't believe how easily she has been losing weight. She said she has lost 43 lbs so far and had another 18 she wanted to lose. When I get emails like this it reminds me why I do what I do and it makes me feel so great!
Q: What are your current projects?
A: Right now I am focusing on my coaching program where I coach clients individually and in groups. I am also teaching others to become facilitators using my system to coach people. After all there is only one of me and this message will help a lot of people so I need to duplicate myself and get lots of coaches out there helping people end their weight struggles and finally achieve lasting weight loss.
Q: What do you like to do when you're not writing?
A: I am very active. I love to go for long walks and hikes. I also enjoy yoga and attending a variety of fitness classes. I spend a lot of time with the love of my life and I do a lot of traveling also.
Q: How did you come up with your title?
A: The MindBody FX Lifestyle is about the mind-body connection and the effect that the mind has on the body. The title reflects the fact that this wasn't just another diet book; it incorporated a combination of mind and body principles so that you can experience lasting weight loss. Without the combination of the mind and body you will either fail or experience only temporary success.
Q: Is there a message in your book that you want readers to grasp?
A: There sure is. In order to achieve lasting weight loss you need to incorporate both the mind and the body. You see there's a reversible cause and effect between your mind and your body and if you only work one, the other will sabotage you. The missing link is the connection from the mind to the body and back again.
Q: What's the hardest part of writing a book?
A: The editing phase, it seemed to take forever and I can't believe how many edits are needed for a final product. There is a lot of work that goes into writing a book and now when I meet other authors I really understand what they went through in the process of writing and completing their book.
Q: If you had to do it all over again, would you change anything in your latest book?
A: Fortunately because I went through so many edits I think that everything I wanted to change got changed in the process. If it would have not gone through so many edits I may have had some things that I would have wished I could have changed.
Topics: Health and Diet | No Comments »
Comments
You must be logged in to post a comment.