« Author Profile – Nancy Burnett | Home | Author Profile – Sara Wiseman »
By Lauren Smith | April 3, 2010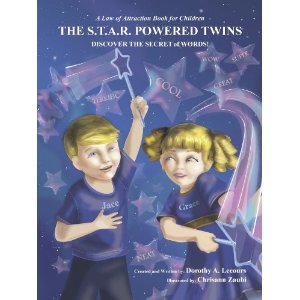 An Author Profile with Dorothy Lecours, author of
CHILDREN THE STAR POWERED TWINS DISCOVER THE SECRET OF WORDS
What's on your nightstand now?
Six Law of Attraction Books
What was your favorite book when you were a child?
Nancy Drew, "The Hidden Staircase"
Who are your top 3 favorite authors?
Michael Losier
Michael Bernard Beckwith
Deepak Chopra
Was there a book that changed your life? If so which one and how did it affect you?
Law of Attraction by Michel Losier changed my life dramatically while I was dealing with the health challenge of breaking both of my hips while I was setting up my first grade classroom. I wanted to use my time wisely while I was confined to my home learning how to walk again. I started taking Michael Losier's Telephone Courses three times a week. This marvelous opportunity shifted my whole perception of the challenge I was facing to ALL that I had to be GRATEFUL for in my life. The knowledge I mastered by following his 3 step plan was absolutely magical. I knew the WISDOM being given to me had to be shared with all the young children on our planet.
Favorite quote from a book?
"Gratitude unlocks the fullness of life. It turns what we have into enough, and more. It turns denial into acceptance, chaos to order, confusion to clarity. It can turn a meal into a feast, a house into a home, a stranger into a friend. Gratitude makes sense of our past, brings peace for today, and creates a vision for tomorrow."
— Melody Beattie
What inspired you to write your first book?
The need to EMPOWER children at a very young age with the strategies needed to master the Law of Attraction.
If you had to choose, which writer would you consider a mentor?
Michael Losier
As a child, what did you want to do when you grew up?
I wanted to become a first grade teacher ever since I was in sixth grade.
Topics: Personal Growth, Spirituality | No Comments »
Comments
You must be logged in to post a comment.