By Lauren Smith | August 14, 2010
A Novel of the Future – Constellation Libra – Life After Earth, by Skylar Pharaon
Review By Lauren S. Smith
Constellation Libra: Life After Earth is a moving new saga from author, Skylar Pharaon, about how the human race may evolve if the Earth yields to global warming – and how humanity might react when they face the challenges that this new earth will bring. As the earth becomes uninhabitable, humans look toward the stars and planets to find the answers and mankind becomes caught up in a stirring drama of having to look for someplace else to live.
Pharaon's story begins "the new world order" that occurs after astronomers discovered a planet eight times the mass of Earth in Constellation Libra. By the year 2099, global warming has cast a shadow across the Earth that human beings realize can't be overcome. They look toward the huge planet in Constellation Libra as a possible alternative to the planet where life began for them.
Manhatten, Miami and many more of the most beautiful places on Earth have long since passed into the rapidly rising sea levels of the oceans, and populations of the lower regions of Earth have migrated to higher grounds to survive. By the year 2277, the Earth's population had moved to the only place they could find that would support human life — far from the sun's solar system and in another galaxy called the Red Dwarf Star System – or Constellation Libra.
Skylar Pharaon draws from her vast knowledge of Astronomy and her numerous travel experiences to Earth's most beautiful corners to write a book that's sure to begin a following of eager fans wanting more. Constellation Libra is more than a science fiction novel. Readers will be introduced to some true facts about global warming and its impact on our planet. They'll also learn about actual new planets that have recently been discovered in our vast solar system and the possibility of habitable planets.
What will happen if planet Earth succumbs to global warming? Will we have the technology it would take to move the entire population to another planet – and what would our new government look like? It's daunting to think about coming together with the many and varied regions on Earth to begin a new society on another planet, but Skylar Pharaon will certainly make her readers think as they embark on a journey that might very well happen in the future.
Although Constellation Libra is a fictional place, with fictional characters, you'll be drawn into the story as it addresses present day problems and what they may hold for future generations of earthlings as we struggle to survive after global warming has its way with our environment.
If you like science fiction, you'll love how Pharaon weaves real-life morality issues with all the "what ifs" that could happen if our planet became an unwelcoming dot in the universe and we had to look for another place to live. Constellation Libra: Life After Earth addresses some of the most serious issues of our times in a way that both entertains and makes us think twice about the decisions we're making.
Lauren Smith is editor for the Virtual Book Review Network – [http://www.virtualbookreviewnetwork.com]reviews books by well known bestselling authors and books by soon to be recognized names. This book review covers <http://constellationlibra-thesaga.com?Constellation Libra </a>by  Skylar Pharaon.
Article Source:[http://EzineArticles.com/?A-Novel-of-the-Future---Constellation-Libra---Life-After-Earth&id=4256494] A Novel of the Future – Constellation Libra – Life After Earth
Topics: Book Reviews | No Comments »
By Lauren Smith | July 2, 2010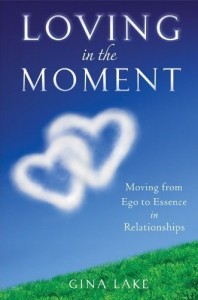 Gina Lake's new book, Loving in the Moment: Moving from Ego to Essence in Relationships explores how to recognize and develop meaningful relationships in today's world of doubt uncertainty and lack of trust. Moving from an ego-based life to compatible relationships with others isn't easy and you must understand the factors that will sustain loving partnerships and friendships with other human beings to be successful.
Lake goes beyond the illusions of romance and what a relationship should be and gets right to the core of what it means to embark on a path with another person, be it relative, matrimonial or friendships. Gina teaches in a clear and succinct way that will help you accept who you are, live in the moment and confront issues such as anger, money, infidelity, sexual problems and other disagreements or incompatibilities within a relationship.
Loving in the Moment is a spiritual-based book that will move you beyond what your ego tells you to think — to a point in your life where you'll discover that growth and contentment with the right person or people can bring you more happiness than you ever imagined.
Gina Lake, M.A. is a prolific writer on the subject she loves most – helping others to bring contentment and joy into their lives by living and loving in the moment they're given. Her master's degree is in Psychology (counseling) and she's spent the last two decades of her career assisting others in their spiritual growth and commitments. Lake has also written Radical Happiness, Living in the Now, Return to Essence, What About Now?, Anatomy of Desire, Embracing the Now and Getting Free.
All of Lake's teachings and books are targeted to an audience that searches for peace and tranquility in their lives and who strive for the ultimate experiences that life has to offer. Besides her plethora of books, Gina Lake conducts seminars and happily speaks to organizations about living in the NOW.
If you enjoy the teachings of Eckhart Tolle, Byron Katie, Marianne Williamson and Wayne Dyer, you'll enjoy and learn from what Gina Lake has to add to their universal appeal in her own book, Loving in the Moment. You'll find out that judging people from your ego's point of view isn't as accurate as initially accepting a person for what he or she is and basing the relationship from that point on.
Loving in the Moment: Moving from Ego to Essence in Relationships, by Gina Lake, will give you an entire new prospective on how to see the divine in others – and how to cultivate it in yourself. It's a book that you'll refer to time and again and one that you'll be anxious to recommend and give to friends and family.
Lauren Smith is editor for the Virtual Book Review Network – reviews books by well known bestselling authors and books by soon to be recognized names. This book review covers Loving in the Moment by Gina Lake.
Topics: Personal Growth, Spirituality | No Comments »
By Lauren Smith | May 11, 2010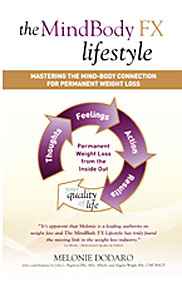 Q: When did you start writing, and what inspired you to write?
A: I started writing my book in late 2007 and completed it in 2009. My inspiration came from many sources that include my own weight struggles, growing up in an obese family and working with thousands of clients over the years in my weight loss centers.
Q: How long did the book take you from start to finish?
A: About 18 months by the time it was all said and done.
Q: Where do you write?
A: Almost anywhere. I remember finishing my book in my hotel room when I was on a trip to Palm Springs. I do a lot of writing on airplanes and of course in my home office.
Q: What's the best thing about being a published author?
A: I would say there is a sense of accomplishment and for me it's also the accomplishment of a long time goal I had set for myself. It was very exciting when my first box of books were delivered to my home.
Q: Who are some of your favorite authors?
A: Don Miguel Ruiz, Wayne Dyer and Napoleon Hill.
Q: Do you hear from your readers much? What kinds of things do they say?
A: Yes I do, I get wonderful emails from people sharing their success following the system laid out in the book. I got one email just last week from a lady who told me that she had struggled with her weight her whole life and after reading the book it was like a switch went off and that she can't believe how easily she has been losing weight. She said she has lost 43 lbs so far and had another 18 she wanted to lose. When I get emails like this it reminds me why I do what I do and it makes me feel so great!
Q: What are your current projects?
A: Right now I am focusing on my coaching program where I coach clients individually and in groups. I am also teaching others to become facilitators using my system to coach people. After all there is only one of me and this message will help a lot of people so I need to duplicate myself and get lots of coaches out there helping people end their weight struggles and finally achieve lasting weight loss.
Q: What do you like to do when you're not writing?
A: I am very active. I love to go for long walks and hikes. I also enjoy yoga and attending a variety of fitness classes. I spend a lot of time with the love of my life and I do a lot of traveling also.
Q: How did you come up with your title?
A: The MindBody FX Lifestyle is about the mind-body connection and the effect that the mind has on the body. The title reflects the fact that this wasn't just another diet book; it incorporated a combination of mind and body principles so that you can experience lasting weight loss. Without the combination of the mind and body you will either fail or experience only temporary success.
Q: Is there a message in your book that you want readers to grasp?
A: There sure is. In order to achieve lasting weight loss you need to incorporate both the mind and the body. You see there's a reversible cause and effect between your mind and your body and if you only work one, the other will sabotage you. The missing link is the connection from the mind to the body and back again.
Q: What's the hardest part of writing a book?
A: The editing phase, it seemed to take forever and I can't believe how many edits are needed for a final product. There is a lot of work that goes into writing a book and now when I meet other authors I really understand what they went through in the process of writing and completing their book.
Q: If you had to do it all over again, would you change anything in your latest book?
A: Fortunately because I went through so many edits I think that everything I wanted to change got changed in the process. If it would have not gone through so many edits I may have had some things that I would have wished I could have changed.
Topics: Health and Diet | No Comments »
By Lauren Smith | May 4, 2010
Author Profile – Sara Wiseman, author – Writing the Divine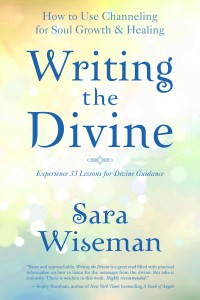 What's on your nightstand now?
My journal, Divine Matrix by Gregg Braden, Matrix Energetics by Richard Bartlett, Frequency by Penney Peirce, The Vortex by Esther and Jerry Hicks…and the latest edition of Surfer magazine.
What was your favorite book when you were a child?
Harriet the Spy, hands down. I read it in third grade, and bought my first journal shortly after. I'm pretty sure I had a spy belt, too…
Did you learn anything from writing your book?
Basically, my whole life changed! Before this book was even a glimmer in my agent's eye (or even before I had an agent!) I unexpectedly received The 33 Lessons in channeled writing—amazing spiritual teachings from Divine guides that begin "the purpose of life is soul growth." It was a scary, exhilarating, transformative spiritual experience. I mean, suddenly I had spirit guides—and I didn't even believe in spirit guides! During these months of channeled writing, my psychic abilities fully opened. By the time I was finished receiving the Lessons for this book, I was profoundly changed from the inside out.
What do you think makes a good writer?
I was a copywriter and a features journalist for decades. This taught me how to write in a style that's short, sweet, sassy and makes it easy on the reader… all they need to do is strap their seatbelts on, and enjoy the ride!
When did you first realize you wanted to be a writer?
From birth. My grandfather was the entertainment columnist with the Chicago Tribune during the Prohibition Era; my father was a professor who wrote ten or more books on business management. I was steeped in it.
Do you see writing as a career?
Writing is one of the three things I do: 1) I write books about soul growth & healing, and how people can connect to the Divine. 2) I teach the same things in workshops and seminars, traveling to whichever places will have me! 3) I offer private psychic counseling and training, to help folks who are ready to move forward in a very clear way.
What does your family think of your writing?
As a child, what did you want to do when you grew up? I wanted to be a rock star, a surfer, a photographer, a mystic on the mountain… and oh yes, a writer!
Topics: Personal Growth, Spirituality | No Comments »
By Lauren Smith | April 3, 2010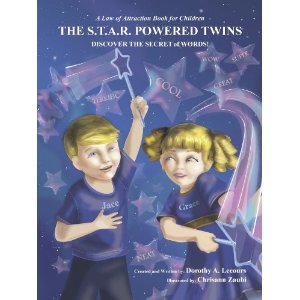 An Author Profile with Dorothy Lecours, author of
CHILDREN THE STAR POWERED TWINS DISCOVER THE SECRET OF WORDS
What's on your nightstand now?
Six Law of Attraction Books
What was your favorite book when you were a child?
Nancy Drew, "The Hidden Staircase"
Who are your top 3 favorite authors?
Michael Losier
Michael Bernard Beckwith
Deepak Chopra
Was there a book that changed your life? If so which one and how did it affect you?
Law of Attraction by Michel Losier changed my life dramatically while I was dealing with the health challenge of breaking both of my hips while I was setting up my first grade classroom. I wanted to use my time wisely while I was confined to my home learning how to walk again. I started taking Michael Losier's Telephone Courses three times a week. This marvelous opportunity shifted my whole perception of the challenge I was facing to ALL that I had to be GRATEFUL for in my life. The knowledge I mastered by following his 3 step plan was absolutely magical. I knew the WISDOM being given to me had to be shared with all the young children on our planet.
Favorite quote from a book?
"Gratitude unlocks the fullness of life. It turns what we have into enough, and more. It turns denial into acceptance, chaos to order, confusion to clarity. It can turn a meal into a feast, a house into a home, a stranger into a friend. Gratitude makes sense of our past, brings peace for today, and creates a vision for tomorrow."
— Melody Beattie
What inspired you to write your first book?
The need to EMPOWER children at a very young age with the strategies needed to master the Law of Attraction.
If you had to choose, which writer would you consider a mentor?
Michael Losier
As a child, what did you want to do when you grew up?
I wanted to become a first grade teacher ever since I was in sixth grade.
Topics: Personal Growth, Spirituality | No Comments »
By Lauren Smith | March 12, 2010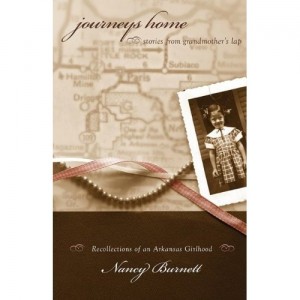 Talking with the author of Journeys Home: Stories from Grandmother's Lap, Nancy Burnett
What's on your nightstand now?
The Dragonfly Principle: An Exploration of the Body's Function in Unfolding Spirituality by Mary Hamilton
Psyche's Journey: Opening to the Mystery, a quarterly journal, psychesjourney.org
When the Elephants Dance, Tess Uriza Holthe
Cloud Atlas, David Mitchell
What was your favorite book when you were a child?
Little Women
Who are your top 3 favorite authors?
I read everything written by Margaret Atwood, John Irving, and Marion Woodman.
Did you ever buy a book just because of the cover and if so, which one?
I've bought many books because I loved the covers and was attracted to the contents. One example is The Making of the Magdalen, Preaching and Popular Devotion in the Later Middle Ages by Katherine Ludwig Jansen—beautiful red and gold.
Was there a book that changed your life? If so which one and how did it affect you?
Many books have been life changing for me. One prominent one is Addiction to Perfection: The Still Unravished Bride by Marion Woodman. This book is transforming in so many ways. It explains some difficult points in Jungian psychology. It reveals a common ill of not just individuals in our society, but of our society itself. It teaches what to do about this illness on both personal and collective levels. And it revealed me to myself, enlarging my sense of who I am and what is possible for me. Eventually, I used the book in study groups with women and so it helped me grow as a teacher and healer to others.
Topics: Essays | No Comments »
By Lauren Smith | January 23, 2010
Guest Post –

Writing a Memoir Poses Difficult Decisions and Startling Discoveries
by Judy L. Mandel
Author of Replacement Child – A Memoir
When I started writing Replacement Child, I thought it would be a pretty straightforward task of remembering, writing, organizing—and hopefully making sense of my life until now.
I had no idea.
The best thing I did to jump-start my writing was to join a writing workshop. It gave me a deadline to have something to read each week, and helped me put a writing regimen in place. I started each day writing for at least two hours and up to four hours.  I noticed that after that time, my writing suffered.  Sorry to say that I worked on my corporate client writing in the afternoons. Sorry guys.
My workshop pals were the first to encourage me, and to make me work harder at my craft. I am so grateful for their insight and honesty in those sessions.
Memories—What Memories?
At first, I thought I had no memories at all. I couldn't remember a thing about my childhood or growing up.  Maybe I should have realized that this was part of my reason for writing the story, at the risk of being cliché—to find myself. Then, after at least six months of mining my memory, I couldn't stem the flood of stories.
My writing came in the form of scenes. I almost thought about them as movie shorts. There was no order to my remembering, so my writing had no cohesive structure for a very long time. It was a series of seemingly unrelated moments in my life—until I took a look at them as a whole and started recognizing themes. Even then, I reorganized my chapters at least five times. If it wasn't in printed form, I would probably still be doing that!
Honesty is Hardly Ever Heard
As I wrote the scenes and episodes for Replacement Child, I came smack up against the things I didn't want to remember: resentment that I denied my whole life; feelings of being outside of my family; anger at my father; my failed marriages. Or, I didn't want to delve into my feelings about those times.  I would initially gloss over those parts, but reading them in workshop, and getting feedback from my group, I saw that those were the very topics I needed to explore and expand on if I was going to write an honest memoir that would uncover the truths I needed to discover.
Am I a Replacement Child?
Coming to realize that I was indeed a "replacement child" for my sister who was killed in the plane crash, was the most difficult—but beneficial—truth I was to uncover. It has explained to me many of my life decisions, my attitudes and my conflicts.  I also truly believe that this understanding has helped me forgive—especially my father.  Talking with other replacement children recently, I'm finding that none of us thinks of ourselves this way until the facts are laid out for us. In may case—I did it myself.  Then, the commonalities of our experiences are startling.
Who's Story Is It Anyway?
Then there were the questions of how much to tell.  In my case, I struggled with how to fulfill the responsibility to my parents to tell their true story and be faithful to their memory.  And, there were things I unearthed about my parents that they may not have wanted told. How to handle that? Until her sudden death this past summer, my sister Linda was my touchstone on many of these issues. But, even we didn't agree on all of it. Being older, she knew more than I did about my parents—and it took her a long time to clue me in.
My other hurtle in writing Replacement Child was that because I always felt I was an insignificant part of the story, I had to work hard to find my role. This was not unlike my real-life conundrum of figuring out who I was in this family drama—a common problem for a "replacement chid." In this way, my four years of writing was a journey of self-discovery.
Topics: Personal Growth | No Comments »
By Lauren Smith | April 30, 2008

The Virtual Book Review Network is pleased to interview Sue P. McDaniel, author of I.M. Heart.
Looking for a richer, more fulfilled life, but finding obstacles along the way? Learning to be aware of your feelings, accepting them and working with them will help you learn more about yourself and also become more aware of the world around you, as portrayed in I.M. Heart.
Sue McDaniel has a life-long interest in searching for understanding of herself and others. She is a teacher at heart with experience at all levels of education. A love of learning lead to completion of a Ph.D. and the search for understanding led to study of feelings and behaviors. I.M. Heart is her first solo publication. From 1992 to 1999, she co-authored five basic books and Learning, Changing and Leading: Keys to Success in the 21st Century, with Chet Dixon. This book and the workbooks accompanying it were used as teaching tools in the state of Missouri. Visit http://imheart.net/.
LAUREN SMITH: What inspired your journey to write I.M. Heart?
Sue McDaniel: My inspiration comes from both personal and professional experience. I've always been an emotional person – growing up in a culture where emotions were not understood or acknowledged. On my life journey, I've had some challenging experiences and struggled with repeating some patterns in relationships, worth or value of myself, and working through fear- based feelings. I've worked with myself to keep growing and learning. I've watched myself stop or hurt myself, and have been interested in the "factors on the inside" that affect our behaviors and actions for a very long time – so wanted to share what I know.
Professionally, I've taught at levels from elementary school to college, and traveled as a trainer. I'm a teacher at heart and I've watched people stop themselves when they had so much potential to succeed. I also worked for the Missouri Women' Council where the mission was to help women and their families succeed economically. I've watch clients get training and be on the verge of having an occupation with an income to sustain a family – only not to show up the first day of work. It's heartbreaking for so much potential to be lost because we can't get around the feelings related to fear. There are so many gifts awaiting us when we can heal these fear-based feelings and open up to accept the feelings based in love – personally, in relationships and spiritually. I like to see people succeed – including me. When we can take a step to move forward – maybe just one step – then other steps can follow. I .M. Heart gives people those steps — and the hope to keep stepping.
LAUREN SMITH: What did you do to prepare for writing your book?
Sue McDaniel: I've worked for years with others and myself, meditated, and used many techniques to heal and move myself forward. I've researched for talks and presentations on these topics. Over time, I've incorporated all of this into my own philosophy, so I drew from my own personal experience, creativity and teaching background. I avoided research while actually writing because I wanted this to come from I.M. Heart.
LAUREN SMITH: What main message – or messages – do you want readers to take from your book?
Sue McDaniel: I want readers to get the message that I.M. Heart is about connecting – in three ways. 1) First it is about connecting with your own feelings – all of them – the ugly, nasty, grimy ones as well as the happy, warm and fuzzy ones. The purpose in connecting is to heal those that hurt so that you can be less judgmental/critical of yourself and instead see yourself as worthy and valuable. This opens your heart to yourself – to be more loving, compassionate, joyful and hopeful. 2) Second, it is about connecting to others – at a more meaningful and intimate level – because you have healed some of your bumps and bruises – therefore you can give more of your heart because it is more open. 3) Third, it is about connecting to spirit – through an open loving heart. Spirit is love – we are love. Love is the most powerful energy in the universe. We are all connected through the love of spirit. Imagine the miracles we can create when we connect in the energy of love.
LAUREN SMITH: Facing up to feelings is a challenge many face; is it difficult for you to "practice what you preach," or has writing I.M. Heart become part of the process that makes it easier for you?
Sue McDaniel: Facing up to feelings is a challenge for many because they are afraid that they will be hurt – maybe again and again! For many, it was bad enough the first time – why should I go through that again? I'm just going to bury this deep inside. However, that feeling just lurks there, silently waiting for a change to once again raise its head and remind us that we don't want to take a chance on a new job, or relationship because — remember darlin' you really got burned last time. Let me keep you safe – don't do it. In reality, taking a step in spite of the fear is a growth step that could prove that history does not always repeat itself. This could be a chance to break the bonds of this fear and be free to experience wonderful opportunities.
Feelings are the internal driving force behind actions and behaviors and are a part of our lives, whether or not we want to acknowledge them. We all have patterns of thinking and feeling that have become habitual ways of responding to life. I've watched people stop themselves when a wealth of opportunity awaits them. Fear of success, failure, family, relationships, our own worth and value – can stop us dead in our tracks. Facing up to those feelings, honestly, so that we can understand them is such an amazing healing process. See my web blog – The Great New Years Eve Meltdown as an example to how sometimes we have to feel the pain – really feel it – and after the release we can change our perspective of a situation. If we hadn't stopped to feel it, we would have carried forward a destructive pattern – but being with it to heal it – not to wallow, but to heal – can change how we see other people and the world.
The writing of I.M. Heart was a healing process for me as I documented what I had learned for myself. The clarification in writing it helped me to more fully practice it, and my understanding has expanded as I've tried to live it. I'm a human in process and am learning more as I practice this. Yes, it's easier because I have healed some bruises and accept there are more to be healed. I'm healthier, and can be honest about how I feel – and still function without dumping my stuff on everyone around me. I recently had a bummed day and make an effort to interact in a super positive manner with others – while wallowing in the gutter. It was my deal and I knew I could let it process through, but not scatter my blues on everyone else. I'm stronger, more confident and accepting of myself even when I'm in the gutter.
Sometimes a situation or person instantly pushes a button and boom – the feelings are flying. How ferocious those feelings are is often a surprise can be overwhelming. Since they are "in my face," I can't avoid them so I acknowledge then and when I can give myself space to be with them and process them. For me, the people most likely to push my button are the people I love most. More insidious are those that creep up on you over time – a repeat irritation, disappointment, feelings of being alone or unloved, one thing after another goes wrong – and the negative feelings build. You ignore them, push them down and find your muscles tight, your gut in a knot, your patience being short, not sleeping peacefully – and then one more button is pushed and you can't ignore them any longer. The bucket is full to overflowing and you need to empty it out – so take a look at the accumulation of feeling sludge to understand and heal it – and watch the pressure release.
LAUREN SMITH: How long did it take you to write the book – (was it longer or less time than you expected)?
Sue McDaniel: It took me about 6 months to write the book. The title came to me as a whisper one morning just after I woke up. I was in one of those half-awake, half-asleep modes and the words just kept floating through my head. Finally, I got up and wrote them down, and as the days passed, I realized that this was the title of a book. Then as I began writing the book gradually took form and I.M. Heart was born.
The initial writing time was about what I expected, but the editing and design work took longer. I originally drafted the character I.M. Heart and then a graphic artist enhanced my drawings. The graphic design of the book was done by a creative genius who can take my work and my concepts, click with those and create magic. Then I had to put all the other pieces in place and find a printer.
LAUREN SMITH: The cover of I.M. Heart is very striking, and the character – the heart shaped icon – is very appealing – how did you go about developing the look and feel of your book?
Sue McDaniel: The cover of I.M. Heart is my artwork. It was done before the book was written, in a moment of artistic inspiration. The book was not yet a seed in my consciousness when the artwork was completed – but when I started working the book, I knew the purpose of the artwork.
The title of the book, I.M. Heart, is a play on words. It is the title of the book, and the name of the character in the book. It also represents me, you and everyone else on the planet. We are all I.M. Heart, which really means I AM HEART since all of us have feelings. The character is intended to be cute and an inspiration to others. In every day life and especially when the going gets rough, I.M. Heart – the character – is a model for how to live with and process feelings, heal the hurts and grow in love. Imagine a scary or difficult situation in which you hold the image of I.M. Heart in your heart and mind – knowing that you are ok in this moment and will be just fine in the next – you can handle it. The character I.M. Heart gives hope!
I wanted it to be esthetically appealing, have lots of open space, printed in purple ink – a healing color, so that it would be more inviting to those who were reluctant to read about feelings. I wanted the book design to capture attention first, and then maybe people would be drawn in to learning about something new that could help them in their lives. It is an introduction to living with feelings.
It was my intent that this book be very user friendly, inviting to the reader in its entirety or to open a page and capture a message for the moment. In fact many people have told me that they have read it through and then gone back and read certain pages for specific points. Each chapter also has summary points and strategies.
LAUREN SMITH: What tips would you offer to anyone writing a book for the first time?
Sue McDaniel:
Writing the book is one thing – there is such satisfaction watching a page fill with words and knowing that those words make sense and then having a vision for the finished product. I love the artistic process. However, getting that product ready for publication is another animal entirely. Marketing it is an even bigger deal!
When you self-publish, there are a gazillion details that you have to handle, decisions to make and many times you are the lone ranger in this process. I would tell everyone to 1) Don't give up on your dream because holding that book in your hand the first time is amazing; 2) Be persistent – most of the steps are not hard, it is just a process of "putting one foot in front of the other" until you figure out what is required; 3) Join some of the publishing organizations and ask them for help; 4) Build your own network of authors who have done this or are in process – so you can support each other; 5) Get help with the Internet marketing strategies – including a web site. They are key to marketing the book and this is still a foreign world to me; 6) Develop presentation for groups or meetings where you can sell your book; 7) Explore the options for selling books in large quantities to gift catalogs, businesses, organizations, etc; and 8) Be sure to get registered with Amazon and distributors for sales. I'm sure there other ideas and I'm always seeking to learn more.
LAUREN SMITH: What can we look forward to from you next – another book, or something else?
Sue McDaniel: I have so many ideas I don't know what to do with them! I love writing and being creative! There are plans for more books, marketing products and speaking topics.
I want to have an I.M. Heart rock or stone for inspiration and support as well as other items to remind people to live with heart. There are plans for I.M. Heart Stories – a collection of real people sharing stories of loving with heart. There are other I.M. Heart options – I.M. Heart Families. I.M. Heart Children or Teens, I.M. Heart at Christmas. The possibilities are endless.
I am currently co-authoring a book that based on abundance – offering solutions for seeing and living in more meaningful and enjoyable ways. The title is way cool and not to be divulged right now. We have plans to write other books together and I have three more titles I would like to write. In addition, I have another book, completed, but unpublished.
LAUREN SMITH: Is there anything we haven't covered that you would like to include?
Sue McDaniel: I want readers to know that there is hope in healing those feelings that hurt. It changes your world when you no longer have to carry around those negative feelings that limit and restrain you. The world opens up, becomes brighter and is more fun!
I also want readers to know that I too am in the process of healing feelings and growing to love myself and others. On this road called life – I have my own set of potholes and sometimes I get lost on the highway. However, I don't fall in a pothole as often and I can climb out of it in a shorter period of time. I am stronger under pressure, more open and willing to be vulnerable in relationships, and kinder to myself. My world looks different than it did in the past – more sunshine, hope and spiritual connection. I.M. Heart – I AM in process and so excited about the miracles to come. Blessings!!!
LAUREN SMITH: Thank you for taking the time to be part of this interview!
Topics: Personal Growth | No Comments »
By Lauren Smith | November 26, 2007
An Interview with the author……

Lauren Smith: What is your book about?
Felix R. Toro, M.D.: The book is about our need to return to Common Sense. We live in the "Information Age" were we receive instantaneous news and opinions from the Internet and 24-hour/day T.V. Experts, Special Interest Groups and Bloggers, presents contradictory information of how we should think, buy or vote. Even in the "hard sciences" like physics, Nobel Prize winners cannot agree on how the Universe works. So if these Nobel Prize winners cannot agree, how can we, the "none-experts", integrate all these new uncertain information to decide today? By the process and cultivation of common sense; sound judgment not based in specialized knowledge. Since the last century, society has evolved into Special Interest Groups whose ideology discourages common sense. They usually advocate their single cause without considering all the trade-offs or how it will affect the rest of society. That is how we end with a patchwork of policies that do not make sense.
Lauren Smith: What inspired you to write it?

Felix R. Toro, M.D.: While I was involved in developing innovative mental health programs, a frequent comment was, "that makes sense and you are the one of the few psychiatrist with common sense". While my first reaction was to thank them, after a while I started pondering what they meant. During the 1980′s there were more disagreement between the more than 100′s school of thought of the causes and treatment of psychiatric problems. The problem was that when the referring physician or family members asked different treatment providers for information, they would receive contradictory diagnosis, causes or ways to help the patient. Many providers acted more like Special Interest Groups, depending on how they were trained or their personal believes. Instead of accepting we did not know enough and were just managing uncertain knowledge in trying to help the patient, they pushed their beliefs or agenda. Many in the health field who takes it to the extreme are described as "Indoctrinologists". A better way to deal with uncertain knowledge is thru the process of common sense, so you can be generally right and avoid been precisely wrong. While studying this relationship it became clear to me that common sense has been a defining character of the pragmatic American Constitutional Democracy which is been undermine by Special Interest Groups. As I am a physician, I have use examples in the controversial Mental Health fields to explain the need to return to common sense.
Lauren Smith: Do you think ordinary citizens can make changes or take back their
control?

Felix R. Toro, M.D.: Yes, we can do something about it. Let us remember that a Constitutional Democracy is based on the idea of Freedom, one citizen one vote. All individual votes count the same regardless of social position, wealth, or your beliefs. Special Interest Group Lobbies indirectly usurp this idea by concentrating money, power and influence in their agenda that does not considers how the rest of society gets affected. If you do not belong to that Group, your opinion or vote will not count as much, unless you develop or join a powerful group against it. Then the cycle goes on. We will be like in George Orwell's Animal Farm were, "All animals are equal, but some more equal than others". If you do not join one of the groups your one citizen one vote will melt away. We need to review President Lincoln's Gettysburg address …and that government of the people, by the people, for the people, shall not perish from the earth. He did not say this or that group, but repeated people. We need to clip the power of Special Interest Groups.
Lauren Smith: What an ordinary citizen do right now to live a more "common sense" life?
Felix R. Toro, M.D.: In our modern stressful lives, we depend on the short news report, press releases or advertisements. Many times there are just Special Interest Groups in disguise. If we cultivate common sense we will be able to deal with this contradictory and uncertain knowledge. I will give you the short version of how to think in Common Sense Terms: First be better at listening; understand what is the situation or problem you are analyzing. Good judgment is based on reality, get your ego out of the situation, "step back". Avoid wishful thinking. We want things to go a certain way, but how things are, is not under our control. Good common sense is in tune with the way things are, and not what we want them to be. Be a little skeptical. Many times the situations or problems are consciously (or subconsciously) presented with the biases of the person or of Special Interest Groups. Remember knowledge is about the past, thinking about the future.
Lauren Smith: When do you feel we started losing our common sense?
Felix R. Toro, M.D.: Even tough Human Nature is such that we have always organize and belong to multiple groups, from tribes to religious or even sports teams, it is only over the past Century that "Corporations" have formed to push an Agenda. Originally most corporations were business legal entities. Over the years the courts have given them more a status of an independent person with rights and responsibilities. This has evolved into "none-business" Special Interest Groups and Lobby that end on been "animals (groups) more equal than others (individuals). You can get more information at my Web-site, www.commonsense-mentalhealth.com, where you can also purchase the book, thanks.
Topics: Mental Health | No Comments »
By Lauren Smith | October 25, 2007
An interview with one of the authors, Arlene Uslander….

Lauren Smith: Why did you write this collection of short stories?
Arlene Uslander: I (Arlene) edited a book for a young man who told me about how he would have died if not for the fact that his sister, who had a job that kept her away from home on weekends, had a strong premonition that she should drive home one Saturday night. She found her brother unconscious, rushed him to the hospital, and doctors said that if not for her going home that night, he would have died. I then began thinking about experiences in my own life that would have turned out very differently if not for the intervention of Fate or some Higher Power. And, I realized that there must be thousands of stories out there about the profound effect Fate has on people's lives. I decided to compile an anthology of Fate stories, including some of my own, and when Brenda Warneka became my co-editor, she wrote about some of her own experiences with Fate. In fact, her story, "Fate on the Fly," which was about how her husband missed being involved in one of the worst air disasters in history, because of the 50th anniversary party of friends, was the very first submission I received.

Lauren Smith: Why do you think the topic of "fate" is so interesting to so many people?

Arlene Uslander: Because it is something very mysterious, an unknown, causing one to wonder: Was that just a random coincidence or was it meant to be? For example, in another story in the book, "Honor Courage and Commitment"; Saving Jack Roush," A a small plane is in trouble, just happens to hit near the home of an ex-marine, specifically trained "to save a pilot in an upside-down plane from a watery grave." The question as to whether this was simply a random coincidence, or whether some kind of pre-determination (Fate, or a Higher Power) was responsible for the amazing rescue of NASCAR's Jack Roush by the ex-marine is certainly open to debate. Many people, including us, the co-editors, could ponder this question indefinitely. Fate is a fascinating topic.
Lauren Smith: Can you share one story from your book that really exemplifies what your book is about?
Arlene Uslander: Yes. Here is a story that gave us goose bumps, but it is absolutely true.
Mother's Voice
By Garnet Hunt White
I grew up "on the fence," as we say in the Missouri Ozarks. Some people believe in extrasensory perception. Others dismiss it with bemused tolerance or persecution.
Many families in my community still believe in haunted houses and "bright, round moving objects high up in the sky." Most look upon these people as "odd." I wonder, are they?
My father was a farmer who traveled around investing in livestock and real estate. Many times, I heard him say that his subconscious, or intuition, often warned him not to travel, or told him to buy or sell, or not to buy or sell, something, and the advice turned out to be right.
Are we so set in our ways that we can't understand or accept anything except what can be seen by the naked eye, or recorded on tape by the human voice?
I had an experience that will always be a wonderment to me.
My mother had a stroke and could not talk. My father kept her at home and had nurses with her round the clock. He also hired a speech teacher to work with her. My husband, Glenn, and I lived 100 miles to the east of my parents' house. Three times a week, after the school bell rang at , I left my classroom and drove to Doniphan, Missouri, to be with Mother, and try to keep up her morale.
Teaching school and traveling 100 miles to my parents' home, and then driving the 100 miles back to our home in Cape Girardeau, meant that I was always short of sleep.
One evening in May, 1983, I bid Mother goodbye, hugged my father, then headed the car for Cape Girardeau to meet Glenn.
I had been on the road about an hour. Suddenly, Mother yelled, "Garnet!" I awoke. The car was headed straight for a bridge rail and pillar. I slammed on the brakes and swerved the car away from the railing. I stopped. My hands shook on the steering wheel. My feet trembled on the floorboard. Shivering from head to foot, every organ inside me yo yoed up and down. I stayed parked for what seemed like an eternity.
Where did Mother's voice come from? It had been in the car. How did Mother know I had gone to sleep? I had left my parents' home an hour before.
Was I hearing Mother's voice from my subconscious mind? How come Mother yelled at me just as my car was heading for the bridge? I didn't know! I had fallen asleep; Mother's voice had awakened me. I was scared; frightened that I had almost hit the bridge, and shocked at hearing Mother's voice.
When I got home, I telephoned my father. The first thing he said was, "Your mother spoke. She called 'Garnet' and sat up in bed.You had been gone about an hour."
That was right around the time I almost hit the bridge!
Through chattering teeth, I told my father about falling asleep while driving, and how Mother's crying out had probably saved my life. Father told me he had had many experiences in his life when some unknown power had warned him of danger. He told me about some of the incidents, and that began to calm me, but I still had not regained my composure. I asked my father to tell Mother that I heard her call my name.
When I got home, I told Glenn about hearing Mother's voice and said, "You probably don't believe me."
"Garnet, I believe you," he said. "I could tell you of many incidents during World War II when the men in my squadron heard unknown voices or felt an unknown power. The reason I've never mentioned these things before is because many people aren't ready to hear about extrasensory powers."
My talk with Glenn helped relieve some of my tension. I didn't fully comprehend how I had heard Mother speak. From the time she had her stroke, until she died 15 months later, my name, on that near fatal day, was the only word or time anyone heard her speak.
A Fate beyond my control decided what was to happen to me that day. After that, I was humble when I heard people speak about "strange" happenings in their lives. This occasion made me give credence to guardian angels and heavenly spirits.
I was in danger; Mother's voice saved me.
********************************************************************


Lauren Smith: How tough was it to gather these stories?
Arlene Uslander: It wasn't easy! We spent several years soliciting true, inspirational stories about how being at the right place at the right time, or not being at the wrong place at the wrong time, had a profound effect on someone's life. Some people ignored the guidelines, making up stories, or writing stories that had very little, if anything, to do with Fate.
Lauren Smith: Did you find that many people have different views of what fate is? Why do you think that is?
Arlene Uslander: Yes, people do have different views of what Fate is. Some of our readers tell us that Fate is really a Higher Power that orchestrates our lives. Still others are of the opinion that we make our own Fate or Destiny. How people feel about Fate has a lot to do with their religious (or non-religious) beliefs. But one thing we have found is that there is never a group of people who all feel that same way about what Fate is which makes for lively discussions.
Lauren Smith: What do you hope your book does and what do you hope your reader gets from this book?
Arlene Uslander: One of the things we hope people will take away from this book is reassurance of how often things go right when they could have gone wrong. And, how often there is no explanation for the interplay of events that exist to make whatever happens happen, except Fate or a Higher Power. Of course, the stories often involve matters of life and death, and the good is inextricably interwoven with the bad, but living life successfully requires that we be philosophical and dwell on the positive aspects of things that happen. We hope readers will identify with that. A central theme that comes through to in many of the stories in The Simple Touch of Fate is the survival of the human spirit in the face of adversity. Many of the stories are bitter-sweet. In "The Train Not Taken," for example, the writer, as a little girl, and her immediate family escape death in wartime Hungary due to a change of plans, but her uncle's family, including her favorite cousin, did not change plans and died in the bombing of the train on which they were traveling. Another theme that we hope readers will be aware of is the willingness of people to risk their own lives to save others. This comes through clearly in the story, "Honor, Courage, and Commitment: Saving Jack Roush."
Lauren Smith: Are there any other anthologies planned?


Arlene Uslander: Yes. We are hoping to have a second Fate anthology published in 2008.
Lauren Smith: How can the book be ordered?
Arlene Uslander: It can be purchased through our website: www.thefatesite.com, or on www.Amazon.com and other online bookstores, and through brick and mortar bookstores. It can also be ordered through the publisher: 1-800-288-4677; International phone number: 00-1/402-323-7800.
Arlene Uslander of Glenview, Illinois, is the author of 14 non-fiction books, is an award-winning journalist, an essayist and professional editor.
Brenda Warneka, a lawyer with a private practice in Scottsdale, Arizona, writes on legal topics, as well as travel and human interest articles.
Topics: Spirituality | No Comments »
« Previous Entries